Your life maid better, with

products

products

service

people

you trust.
Enjoy a better, healthier, and safer house cleaning in
St. Louis.
We bring you a maid cleaning service designed to enhance your quality of life in St. Louis. House cleaning for health and safety is the heart of what we do at Better Life Maids.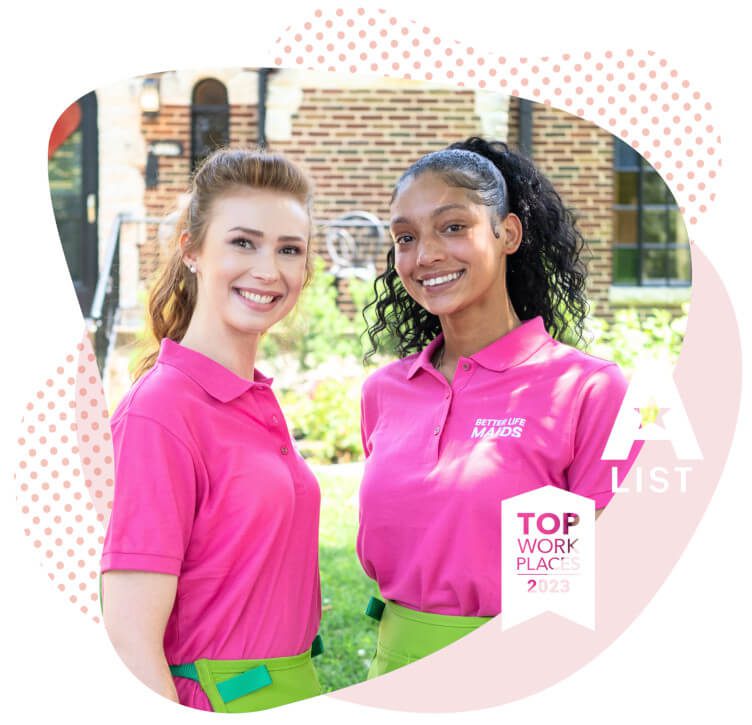 Real reviews from our customers.

A house cleaning service designed for your happiness
Better Life Maids is committed to helping you spend more time on what matters most, this is our singular goal and promise to you. As one of the finest St. Louis cleaning companies and a leader in the industry, we enjoy bringing a consistently delightful service that sets the standard for health and safety. Our team employs proven yet innovative processes and practices, all designed to improve the quality of your life and keep your family and pets safe. We are known and loved for the eco-friendly cleaning services we provide across St. Louis and the area, so leave the chores to us and enjoy a healthy home and more time for what truly matters.
– Angela Ricketts, Founder
We've been using Better Life Maids to clean our home for over a year now. They consistently do a great job. I really appreciate the convenient scheduling (they are always willing to accomodate us). Our team is also great with my 3 year old son! He is usually at home with our nanny when they come to clean and I always hear about how much fun he has entertaining the cleaners 😛

There is no better feeling than walking into a super clean home, and knowing that someone else took time to do it. ? Totally worth the expense, as this gives me time for other things that are important!

April Mickens Jolly
St. Louis
They absolutely make my life better! So professional and organized. They have a checklist for what is cleaned so that you know that it will be the same deep, thorough cleaning every time. Maids clock in and out (like a professional job) and leave my home as pretty as the day we moved in. Cannot write enough to recommend this company.

They did a great job. I don't get my house cleaned so this was all new to me — they made it easy and I am thrilled to have the help — and thrilled to have a little more time to hang out with my family instead of cleaning.

Laura Muller Goddard
St. Louis
I love Better Life Maids! I come home to a sparkling house- clean in places I would never get to on my own! My house smells fresh and clean and I don't have to worry about harsh chemicals harming my kids or my pets! They are reliable and always respond to concerns or questions promptly. Excellent customer service and a perfectly clean house! Amanda, Ashley, and Lupe did a fantastic job! I can't recommend them enough!

Caitlin Madison
St. Louis
I had a great experience with the team that came to my home on October 4th. They were very professional and cheerful and the floors of my home have never been so clean. It was worth the investment and such a positive experience. I was very confident that this group would be able to get the job done, and they did not disappoint.

Susan Leeper Leonard
St. Louis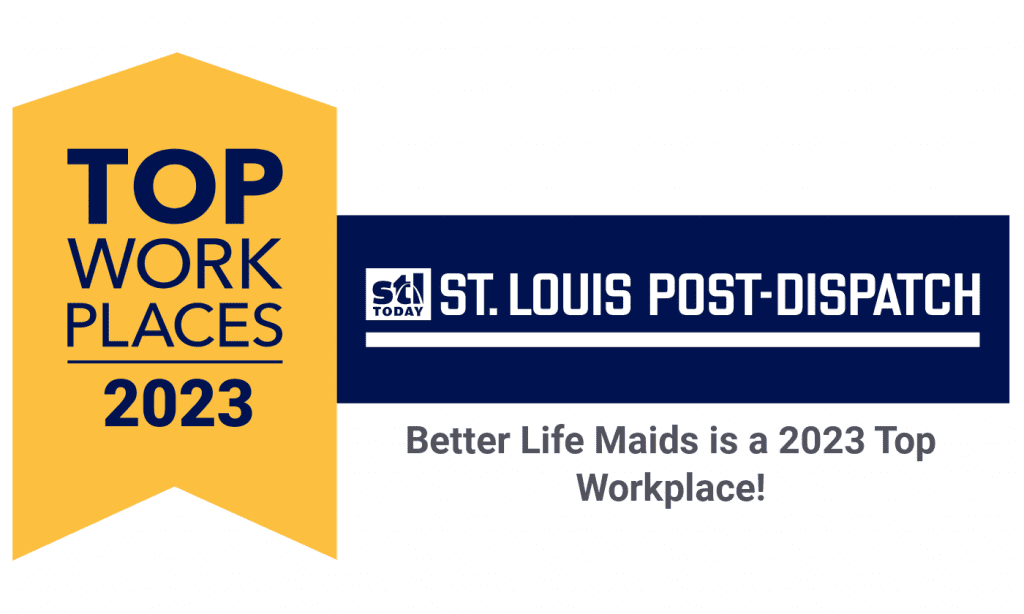 The Top Workplace Award celebrates companies that make the world a better place to work together by prioritizing a people-centered culture and giving employees a voice. By creating Better Jobs, we can offer you a Better Service.
Featured By

We lead the industry through quality cleaning service, maximum safety & innovative technology.
Safer and Healthier Cleaning
We bring you a tailored maid service that boosts the health and safety of your home in St. Louis. We want you to enjoy a clean and fresh space after each visit, and we'll take the necessary steps to make sure of that
Trusted Professionals
We hire and train kind and skilled experts who are committed to making your home shine. We have developed industry-leading processes and practices that bring you safety, happiness, and convenience.
Easy Scheduling
We have built software that helps manage your house cleaning experience with the ability to make requests, change your schedule, even update your payment on file. You will get a reminder by email, text, or phone before your cleaners come.
Consistently Delightful
Excellence is our goal, even for something as simple as getting your price right on our website. Now more than ever you should look for a professional service that has always committed to delivering great results and exceeding your expectations.
Frequently Asked Questions
Is hiring a cleaning service worth it?

There are numerous reasons why hiring professional house cleaning services in St. Louis is a great idea. Here are just some of them:

More time to spend with friends and family or engage in hobbies
The average household saves 7 hours each week
A Harvard Study shows that households that outsource chores are significantly happier
Less stress in your daily life
A healthier home environment safe for your kids, pets, and the planet
Consistent results with each visit

Better Life Maids is an award winning cleaning service that provides consistently delightful service, offers the top cleaning providers, and has processes that make getting your home cleaned fast and easy with amazing results.
What does a house cleaning service include?

A standard cleaning service includes all of the tasks necessary to maintain a clean and healthy home on a regular basis. Our happiest customers choose every two week service and don't need to do any maintenance cleaning between regularly scheduled house cleaning visits:

General dusting
Removing cobwebs
Wiping down kitchen and bathroom surfaces
Emptying trash and replacing liners
Vacuuming carpets and rugs
Mopping the floors

Reputable house cleaning companies in St. Louis will also give you a choice to include additional services in your experience. Learn More
What should I look for when hiring a cleaning service?

Not all cleaning services in St. Louis are made equal. If you want to ensure consistently amazing results, make sure to look for:

At Better Life Maids, we bring all of this and much more. We strive to bring you a comprehensive, custom-made experience that ensures the optimal health and safety of your home. Learn More
How often should I hire a maid service?

The frequency of your St. Louis maid service is entirely up to you, but our happiest customers have every two week cleaning service and don't need to do any cleaning between visits.

You can choose a weekly, bi-weekly, or monthly service depending on their unique needs and budget. For instance, a small apartment with one or two people will require a less frequent service, than a large home with children and pets. No matter what you choose, you can rely on Better Life Maids to meet your specific needs with kindness and professionalism. Learn More
What is the purpose of green cleaning?

Eco-friendly or green cleaning services rely on products that are better, safer, and healthier for people, animals, and the planet. Switching to green products can enhance the wellbeing of your family and minimize the harmful chemicals that are released into the environment.

If you live in St. Louis and the surrounding area, contact Better Life Maids. We have a full line of green cleaning products which have received praise in several magazines, such as Rachel Ray's Everyday, Oprah, Real Simple Magazine, and more. Our products have been verified for safety and effectiveness by Whole Foods Eco-Scale! Learn More
Who offers high-quality green house cleaning services near me in St. Louis and the area?

As one of the leading cleaning companies in St. Louis, Better Life Maids is dedicated to providing you with convenient, reliable, and high-quality services. We go above and beyond to bring happiness, health, and safety to our clients through time-tested practices and innovative technologies. We screen and train the finest professionals in the area and use our own eco-friendly products.

You can count on us in a great number of St. Louis neighborhoods, including Clayton, Kirkwood, Richmond Heights, Maplewood, Webster Groves, and University City. Get in touch now and make the best decision for your health! Learn More
How much will it cost to clean my home?

Pricing will vary depending on the size of your home and whether or not you would like a deep clean or a routine maintenance cleaning. Get an instant price online or call us at 314-288-0659 for a detailed quote. There are a lot of variables that determine how much house cleaning will cost including labor content (hours needed to clean), professional training, supplies and equipment, and more.
Why is it important to pick a company that prioritizes and takes care of their employees?

It's a pretty simple equation. Better Jobs=Better Service. By providing higher paying jobs, high quality benefits inculding health-care, vision, and dental insurance, we attract and retain a higher caliber of employee. All of this leads to higher job satisfaction, lower turnover, a higher sense of purpose in their work, and a better work product for you. Better Life Maids has been awarded a Top Workplace Award for our outstanding culture. Learn More