ST. LOUIS POST-DISPATCH NAMES BETTER LIFE MAIDS A WINNER OF THE GREATER ST. LOUIS TOP WORKPLACES 2023 AWARD
Better Life Maids has been awarded a Top Workplaces 2023 honor by The St. Louis Post-Dispatch Top Workplaces. Being recognized as a St. Louis Top Workplace shows Better Life Maids ongoing commitment to creating an exceptional workplace. The list is based solely on employee feedback gathered through a third-party survey administered by employee engagement technology partner Energage, LLC. Better Life Maids is the only house cleaning company in the St. Louis area to be recognized, and one of just a handful nationwide.
Creating a Top Workplace includes things like great pay, paid time off, and benefits. But what really matters is creating a culture of putting employees first. Better Life Maids' purpose is "Helping People Live a Better Life". And we have always believed that starts with our employees. Because we are a privately held, purpose-driven business, we are able to put our employees first and create a much different work experience than other house cleaning services. Angeal Ricketts says"I always wanted to create a different kind of workplace. A place that I would be excited to come to every day. But don't just take our word for it. Look at our Indeed reviews from our current and former employees. You can see that we are highly rated for employee happiness, satisfaction, and creating a workplace that gives them purpose. And all of this leads to better jobs, happier customers, and a company that is stronger and can serve our customers for the long haul."
Industry Leading Pay & Benefits
Creating Better Jobs for our employees is probably the most important part of our recipe for creating amazing results for our customers. The residential cleaning industry typically has turnover approaching 300%. Ours is a small fraction of that. So our customers have the same great technicians for years to come.

And because we offer up to 17 days of PTO, plus 6 paid holidays, our technicians are able to recharge and produce top results when they are at work.
We don't want to compare ourselves to other cleaning companies, because we are trying to change the industry, many of our direct competitors don't even offer PTO, let alone health benefits, dental, vision, and retirement plans. These are things that don't exist in most residential cleaning jobs, and many comparable jobs that our technicians might be evaluating when choosing a career. And all of this does not mean we cost substantially more. We can spread out the cost with our scale.
A Commitment to Our Purpose & Values
Great pay, benefits, and work-life balance matter. But what really sets us apart is our commitment to our Purpose Values is what really sets us apart. We hire, train, and coach to our values in everything we do. We have built a system so that our field service managers can highlight and coach on these values in every interaction. They are not just something on our company walls, but they are woven into the fabric of our organization (and on every one of our name badges to remind us).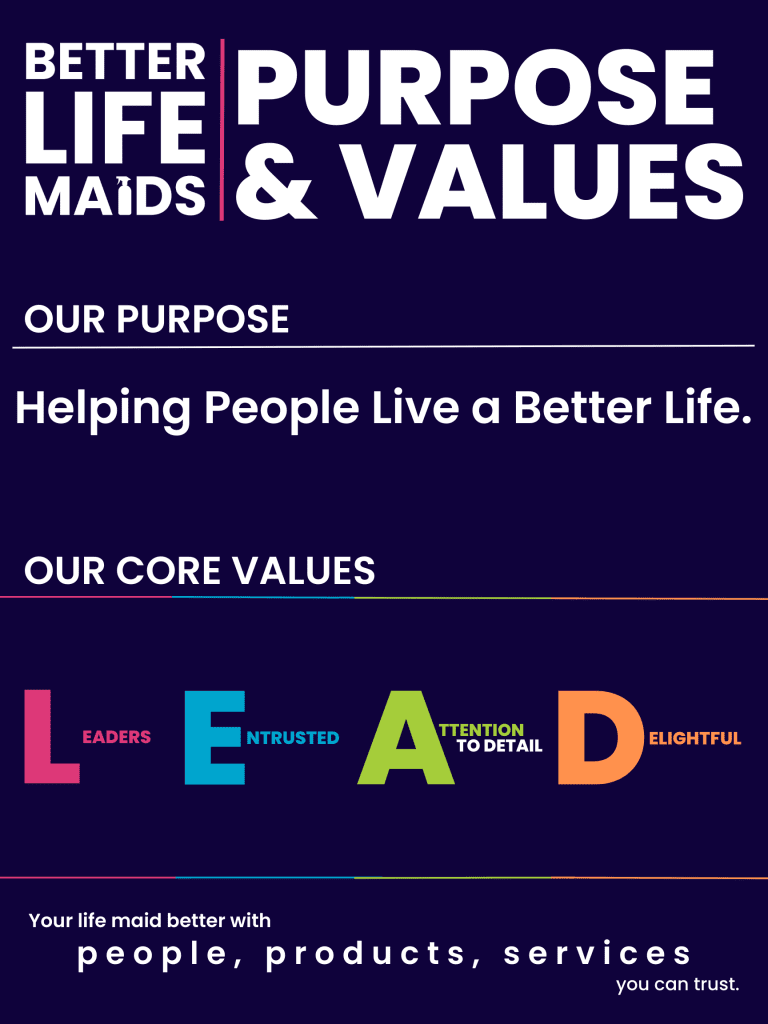 "Earning a Top Workplaces award is a badge of honor for companies, especially because it comes authentically from their employees," said Eric Rubino, Energage CEO. "That's something to be proud of. In today's market, leaders must ensure they're allowing employees to have a voice and be heard. That's paramount. Top Workplaces do this, and it pays dividends."