Happier Houses Outsource Cleaning
Get back your time with Better Life Maids.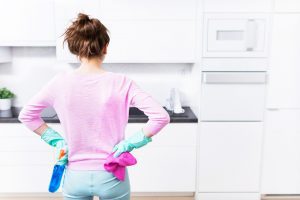 According to an April story by NPR working moms in married households spend an average of 4.6 hours per week on housework and 6.9 hours on caregiving. Their spouses average 1.9 hours of housework and 5.1 hours of caregiving. None of this study included cooking and daily cleaning tasks like cleaning up after meals.
According to the New York Times and Harvard research, spending money outsourcing household chores greatly reduces stress and has the potential to improve relationships.
We can't help you with the cooking or caregiving part, but we can take most of your home's maintenance cleaning off your plate so you can relax, destress, and spend time doing the things you love.
Our happiest customers have every two-week service that saves them around 12-14 hours of cleaning over that 2 week period and don't have to do any house cleaning tasks such as vacuuming, mopping, cleaning toilets, showers, or dusting between regularly scheduled cleaning visits.
One visit from two Better Life Maids home cleaners takes around two to three hours, where we take the time to make your home spic 'n span. And because that's all we are focused on we can normally save the average household double that in time spent cleaning and preparing for cleaning.
We bring all of our own cleaning supplies and equipment, so there's no need for you to lend us your vacuum and cleaners (unless you want to). In those two to three hours, we do lots of things, including:
• Vacuum the floors
• Dust
• Hand polish
• Take out the trash
• Clean the bathrooms (behind the toilet too!)
• Clean the kitchen (even the stove)
• Clean all glass surfaces
And much more. For a full list of included tasks go to the what's included page of our website.
With all that work off your shoulders, you might even get more than two hours to do something other than housework. We even take the time to do a few extras upon request, such as the windows, the interiors of your oven or refrigerator, or the porch and garage. Let Better Life Maids take care of those chores that you've been putting off as well as the ones you do on a regular basis.
Although the average number of hours of housework done per week has been declining since the 70s, more and more moms are balancing a career on top of family and the household. Give yourself a break with a home cleaning from Better Life Maids. You might find that we can make your life a little bit better than before. Get a free quote on your house today.