6 Tried-and-True Speed-Cleaning Hacks
Do you ever feel pressed for time simply because you're spending too much of it imposing order throughout your home? Or perhaps you're just too busy with work and commute to give your place in Kirkwood the cleaning it really needs? Calling in professional house cleaning services is certainly an option, but is it the only one?
Of course not! By taking just a little bit of time each day to apply the following tricks, you'll make your home sparkling before you know it. Read on to learn 6 time-tested speed-cleaning hacks that will help you take your housekeeping to the next level!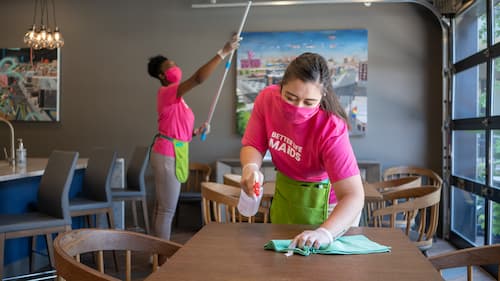 What is the fastest way to clean a house?
Here are 6 proven ways to achieve maximum cleaning results in the shortest amount of time possible:
1. Make a task list
Creating a thorough to-do list before embarking on housekeeping duties will help you manage your regular chores more efficiently. You'll be able to cross things off without spending hours looking back at what you've done. What's more, you'll keep track of just about every inch of the house, as well as areas left to tackle.
2. Declutter first
Clutter is probably your no.1 enemy when you're on the mission to keep every speck of dust at bay. Don't make the mistake of running around picking up toys and shoes while cleaning, as that will slow you down and make simple tasks much harder.
3. Gather all cleaning supplies
To make the most of your time, make sure you have all the supplies you need ready within easy reach. Don't waste precious energy on running back and forth from one part of the house to the laundry room to grab a mop, duster, or rubber gloves.
Also, don't forget that choosing green products can make domestic life easier. DIY solutions, such as baking soda and lemon juice or water and white vinegar, can be as effective as chemical-based ones.
4. Clean as you go
If you're looking for a system that will save you from hours of dready cleaning, you can't go wrong with these few ground rules:
Clear after yourself
Always put things back where belong
Deal with your dishes after every meal
Do one load of laundry every day
Sweep up a soon as you notice dust around
Taking just a bit of your time every day and making these a habit will cut your upkeep routine in half. Not to mention it's one of the rare stress-free ways to prevent your home from ever getting really messy.
5. Chunk the upcoming work
Be strategic and don't try to handle everything at a stretch. Instead, focus on one room or specific area first and stay there until you're finished. By breaking housework into smaller, less intimidating tasks, you'll avoid procrastinating or feeling overwhelmed.
6. Have a strategy
If your place hasn't been kept up, you need to stick to a game plan that actually works. Top to bottom and left to right methods are recognized for a reason – they'll put your house into perfect order with the least possible effort.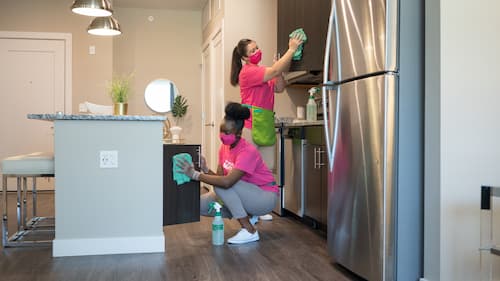 Who in Kirkwood provides comprehensive house cleaning services?
Are you getting swamped by your housekeeping duties and looking for expert advice on time-saving cleaning techniques? Or perhaps you're overwhelmed by your packed schedule and searching for help from seasoned experts? With Better Life Maids by your side, you can count on top-quality customer care and a range of specialized services that keep every inch of your home spotless. Our expert team is at your disposal whether you live near The Magic House or elsewhere in the area. We understand how tiring it can be to stay on top of your daily household chores, which is why we're here to offer a full-service package or a custom-tailored solution. Give us a call and schedule your session today!