How To Always Stay on Top of Your Household Chores
No matter how you put it, regular home cleaning tends to be boring, repetitive, and tiring, especially when you need to do everything in one day because guests are coming over tomorrow morning.
While calling in professional house cleaning services in Kirkwood for help is a simple and effective solution to this problem, it's far from the only thing you could do. In fact, there are many ways to make housework less taxing and more comfortable, and we're going to reveal some of them to you in the following article. Read on!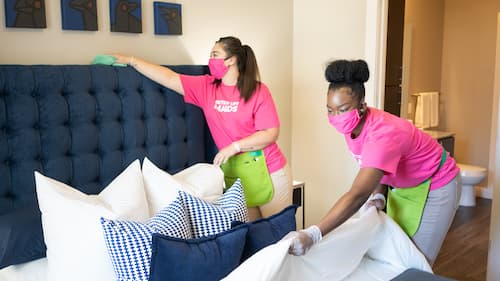 What order do you clean your house?
To tackle your home successfully, you need an in-depth approach that will cover even hard-to-reach areas. If you're not sure where to start,  there are simple hacks worth memorizing.
Handle the highest areas first:
Remove cobwebs from the corners of the ceiling
Dust ceiling fans thoroughly
Wipe light fixtures to eliminate dust build-up, dead insects, and other grime
Reach for the top of the cabinets and get rid of the cloud of dust
Proceed to the middle zone:
Check out the wall and any marks and spills
Clean picture frames and mirrors
Rinse windows and window blinds
Sanitize countertops and kitchen cabinets
Give a good scrubbing to kitchen appliances
Disinfect toilets, showers/bathtubs and sinks
Work your way to the floor:
Take care of baseboards
Vacuum carpets, and mop floors
How to clean your house from top to bottom?
Once you decide it's finally time to bring the sparkle back to your home, keep in mind there are all sorts of strategies people use to manage the upcoming tidying session effectively.  Unless you want to deal with the same household chores twice, consider implementing some or all of these:
1. Follow a logical order
Don't start cleaning another room until you're done with the one you're currently in. Also, move from room to room in a logical order. It will keep you on track and save you a considerable amount of energy. For instance, if your bathroom leads to a hallway connected to a kitchen or a bedroom, follow that roadmap. Don't waste your time needlessly moving from one end of the house to another.
2. Prioritize the most challenging areas
Although kitchens and bathrooms may be smaller in size, they tend to be the most demanding rooms when it comes to cleaning. Before moving on to lighter areas, make sure you get these two in good shape. If you prefer, you can start with a bedroom or living room, but bear in mind that you'll get more exhausted as the cleaning progresses. As a result, tackling high-traffic areas will be harder.
3. Focus on high-touch surfaces and items
Frequently touched areas and items are most likely to be infested by pathogens. Here are some examples of high-touch spots in the house that should be prioritized when disinfecting your home:
Door knobs and handles
Light switches
Desk and table surfaces
Countertops
Kitchen appliances
TV and AC remotes
Computers and phones
Keyboard, mouse, and mouse pads
Who offers quality house cleaning services in Kirkwood?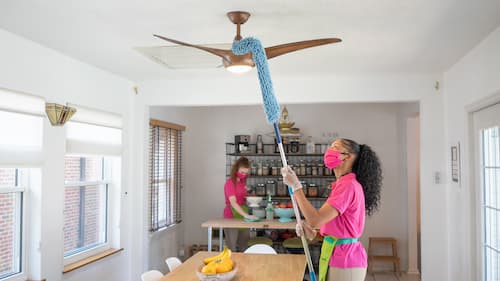 Need help keeping your home sanitary and sparkling at all times? Or perhaps your schedule is just too busy and you desperately need a quick solution to create more free time for yourself? If so, look no further because Better Life Maids is here to help. Our seasoned team is fully committed to one goal only: to provide each client with a range of maid services that will improve their quality of life. With advanced eco-friendly products and methods we use for years, we vouch for your happiness and spotless home, whether you live downtown or elsewhere in St. Louis County. Reach out to us and we'll discuss your needs and customize the session to meet your specific requirements!