Best Tips and Tricks for Storing Cleaning Products
Getting down to cleaning is difficult enough as it is. But, it gets even harder if you have to dig through a bunch of tools and products for ages before you find your mop, broom, or duster. If you organize and store your cleaning supplies for easy access, it will make your life much easier.
The easiest way to keep your home in Clayton pristine is to hire a maid service. Yet, if you prefer to do it yourself, read on for best tips and tricks for storing cleaning products.
How do you store house cleaning supplies?
Storing your cleaning supplies properly is essential if you want your cleaning to be effective and also if you want to protect yourself from potential hazards.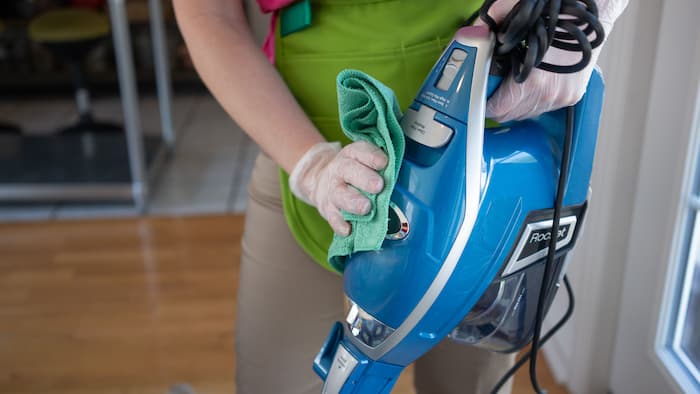 Keep it safe
You need to keep your cleaning supplies, especially chemicals, away from children and pets. The products should be safely stored in a container with a lid. Also, you must make sure to prevent them from falling down, or being spilled.
Mind the expiration dates
Regularly used cleaning products can be very dangerous when they expire because some chemicals can change their composition. Don't forget to regularly check the condition of your cleaning products and safely dispose of those that have expired.
Pay attention to the packaging
Never use the packaging of cleaning chemicals for any other purposes. Rinsing the bottles with water and reusing them can be very dangerous due to chemical residue. Also, avoid decanting cleaning products into containers previously used for food or drink, because children might mistake them for juice and get poisoned.
Make a selection
Do you have any worn-out or duplicate brooms, mops, or dusters? Getting rid of surplus tools will make your cleaning process easier.
The same goes for all those toilet, glass or other cleaners you are keeping under the sink. Keep one of each and dispose of others.
What do you store cleaning products in?
You should find a place in your home where you can store your cleaning products in a safe as well as practical way, and with easy access.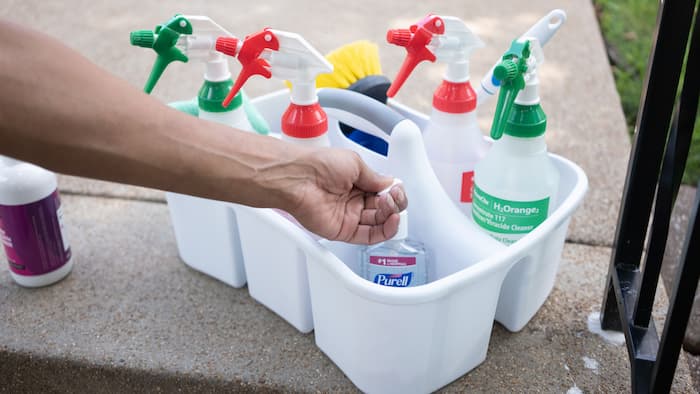 If you have the conditions in your home, ideally you should store cleaning products in a separate room, which needs to be clean, cool, and dry. You should also regularly ventilate the room and keep it locked.
It could be in your kitchen, bathroom, or in the hallway. In any case, you should keep your cleaning cabinet in order. Organize your products and keep track of your stock. If you notice that some of them have expired, or their packaging has been damaged, get rid of them.
You can make your cleaning supplies mobile if you put them in a utility cart. Look for a small one that you can keep in a closet, behind a door, or between appliances. When you clean, you can easily roll it from room to room and help yourself to any products you need.
Cleaning caddies are a must-have for mobile cleaning. You can have separate bathroom, kitchen, and living room caddies with different cleaners and supplies in each of them. So, when the cleaning time comes, you can just grab the one that you need and go.
Where in Clayton can I find a quality maid service? 
You don't need to worry about storing your cleaning products and supplies. Better Life Maids offers a quality, reliable and safe service. Our expert team uses only plant-derived and non-toxic cleaning solutions to make your home spotless and safe for your family.
In the meantime, feel free to relax and take your family to the Gateway Arch and enjoy a bird's eye view of the city. Contact us today and get a free estimate!