The Ultimate Guide to Window Cleaning
When cleaning your home, make sure you don't neglect the windows. It may look easy, but anyone could use a few tips on how to keep windows spotless.
If you're in Maplewood, you can always hire one of the cleaning companies and end it right there. However, if you prefer to do it yourself, read on!
How do you clean windows like professionals?
There are so many different things to consider when tackling windows. It's important to know the type of products to use, as well as what type of cloth is recommended. To help you out, we'll go through some of the expert tips and tricks: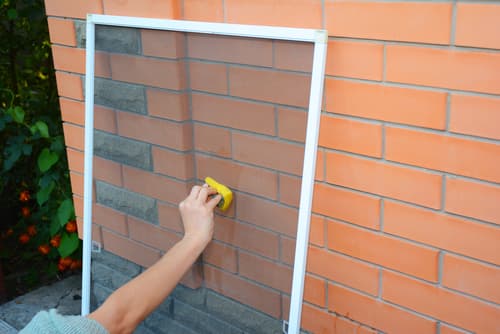 Use the right tools
Having the right equipment on hand before you start allows you to get the most out of your cleaning efforts. It doesn't have to be expensive either. These are just a few key things you need:
Microfibre cloths
A large bucket of clean water
A cleaning agent
Spray bottle
Don't use too much chemicals
This is a common mistake. Only a tiny amount of a cleaning chemical will manage to lift stubborn dirt from the surface. Too much of the agent will be difficult to get off the window. When the window dries and the water evaporates, chemical residue can leave sticky smears.
Clean the inside as well the outside of your windows
Clean the windows on the inside first – you don't want to bring in dirty or wet equipment after cleaning the outside. Use your spray bottle to apply a chemical solution to the glass surface. Rotate a damp microfiber cloth evenly from the center to the edges.
Then, dip the microfiber cloth in the bucket of water and rinse it lightly. Wipe over the window to remove excess water or cleaning chemicals. After that, just leave it to dry naturally for a streak-free finish.
Now, it's time to clean the outside of your windows. Any dirt, marks, or marks you leave on the opposite side will show through.
Don't forget to replace the clean cold water in your bucket and the microfiber cloth that you've been using. Otherwise, leftover dirt or dried chemicals from inside may be transferred.
One thing to consider is that outside windows can be a little dirtier than the inside of your windows. In this case, you can do an initial wash, leave the windows to dry and then repeat the same process until they're spotless.
How to clean window screens?
Cleaning window screens is easier than you might think, just follow these easy steps below:
Step #1: Take the screens off
Remove screens from the windows. Label the metal frames so you can easily reinstall them.
Step #2: Vacuum gently
Put the screen on a towel, vacuum it gently to remove dust, pollen and other debris. Flip and clean the other side the same way.
Step #3: Clean with soapy water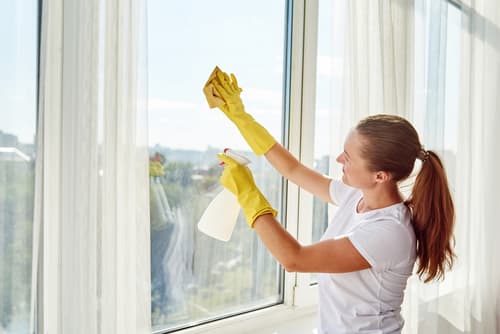 Put the screen to an upright position. Mix 1/4 cup of liquid all-purpose cleaner and 1/2 gallon of water and use a sponge or microfiber cloth to gently wash over both sides of each screen from top to bottom.
Step #4: Rinse it
Rinse the screen with a hose at a low pressure before the soap begins to dry. Your shower head on a gentle setting will also do.
Step #5: Dry and reinstall
Absorb excess water on the screen with a dry towel, and allow it to air dry. Once dry, reinstall the screen and maintain it regularly with an extendable vacuum.
Where in Maplewood can I hire reliable cleaning companies?
Cleaning your windows like a pro can be challenging and time-consuming, but you don't have to do it yourself. Better Life Maids will take care of all maintenance for you, whether it's cleaning your bathroom, disinfecting your kitchen sink, or keeping your floors spotless.
Our team of screened and trained cleaning experts will use only plant-derived and non-toxic solutions to leave your home spotless while you enjoy some free time and check out Fountain Park with your loved ones. Contact us today and get a free estimate!