Protective Measures Against The New Coronavirus
Covid 19 Update: Cleaning your home is one of the most important steps you can take to prevent the spread of infectious diseases like the new coronavirus or the Flu. As with the flu epidemic, we will provide sanitation throughout your home (clean door handles, door frames, and commonly touched areas). We aim to provide excellent service, especially in times such as these when viruses can be overwhelming. WHO and CDC have provided basic protective measures, and we will be following those guidelines.
What Better Life Maids Is Doing
At Better Life Maids, we have always cleaned for the health of safety of our clients. At this time we have taken additional measures and we are monitoring the evolving situation and following the guidelines of the WHO and CDC in all of our client's homes and workspaces to keep our clients and team members safe, and our client's home's clean. This includes:
Increasing our cleaning protocols using products where appropriate that have been found to be effective against viruses such as coronavirus.
In addition to our normal sanitation process, we have added a disinfection step with a product that is EPA certified and has been proven to be effective against emerging pathogens like the Covid-19 novel coronavirus. We do not take this added step lightly, but believe it is a sound additional precaution at this time. We have chosen the greenest and safest step possible by investing in the On-Site Generation of Hypochlorous Acid, a proven safe and effective disinfectant.
We have updated our Personal Protective Equipment and trained our employees on best practices. All of our employees wear gloves, shoe covers (if requested), and masks at all times when cleaning. We also recommend and provide eye protection. Note: As of 10/1/22 masks are worn upon request. We will add a tag to your account.
Adding more hand sanitizer for employee use in cleaning kits and cars for recurring use. As well as being provided sanitizing wipes to use on equipment such as vacuums and other tools as necessary. Our employees are also vigilant about washing their hands at every opportunity they can in addition to using hand sanitizers.
We have always only brought clean cloths and mops in your home. We have always practiced this and will continue to do so. Only clean mops are used to clean your floors. They are presoaked in the cleaning solution and removed for the day after one use. They are also removed after they are used in bathrooms and high-traffic areas.
We only bring clean and disinfected tools into your home. We provide our teams with a fresh set of tools for every home. In addition, they clean and disinfect all totes, bottles, and vacuums at the end of each job. All tools are disinfected twice. When our staff members are done using them for a home they are placed in a storage tote. All the tools are washed at the end of the day. Soaked in disinfectant and then rinsed clean.
Having plans in place should the need arise in any of our communities. We are meeting regularly to refine and update those plans as new information becomes available, and to continue learning as much as we can in order to make informed decisions.
Creating a distributed workforce. We are now working more and more as single maids. This has many benefits. First, it avoids having all of our staff at the office each morning and allows us to implement social distancing protocols, and reduces their time together traveling in cars, and reduces the number of team members in homes. About 80% of our staff have been moved to a solo cleaning model. We do need to retain some teams for training, larger homes, and first-time cleans.
In addition, we are training our staff that if they have a temperature, cough, or any other signs of illness to remain at home. Before our time clock will let them clock in they must certify that they are healthy and complete a safety and health questionnaire that applies specifically to the Covid-19 outbreak. We are asking all of our clients to postpone service if anyone in their home has had any recent symptoms of the flu, cold, or unidentified respiratory illness, and they are sent a link to the health and safety certification page. We are making sure that our staff knows that it is our duty to help slow the transmission of Covid-19 and to be extra diligent in assessing their own health and asking all clients to postpone service if they have any concerns. We have waived all cancellation fees for clients during the outbreak except for lockout fees.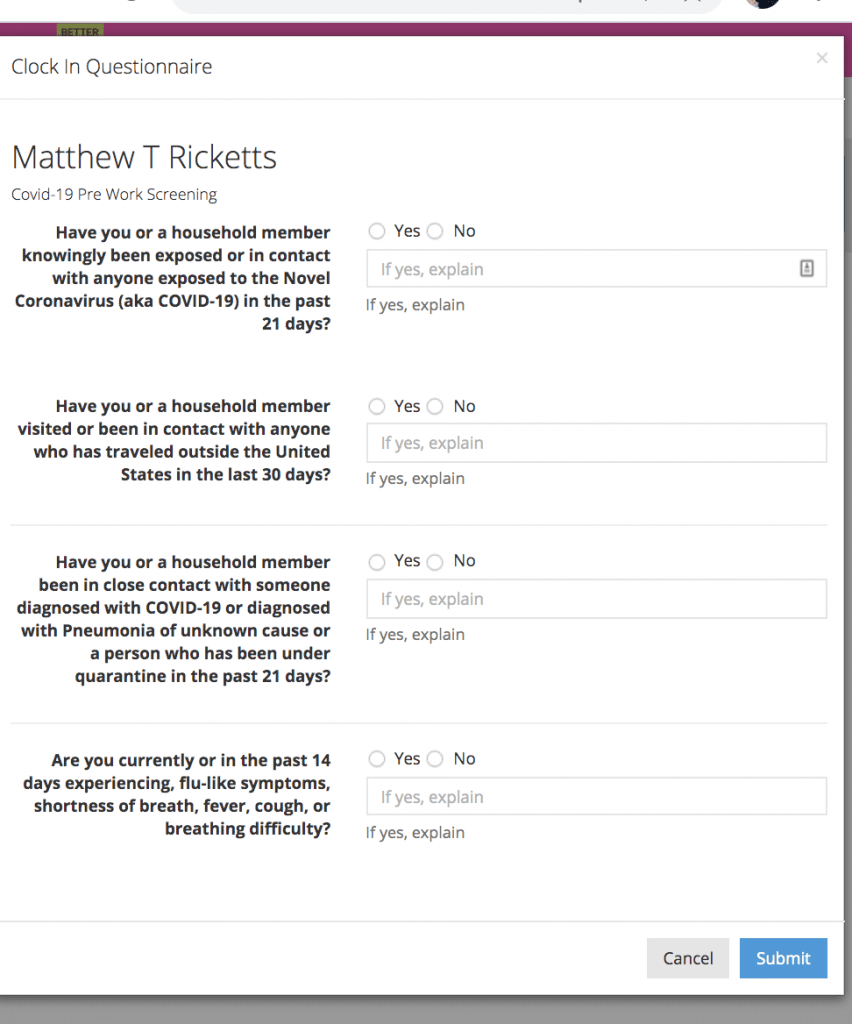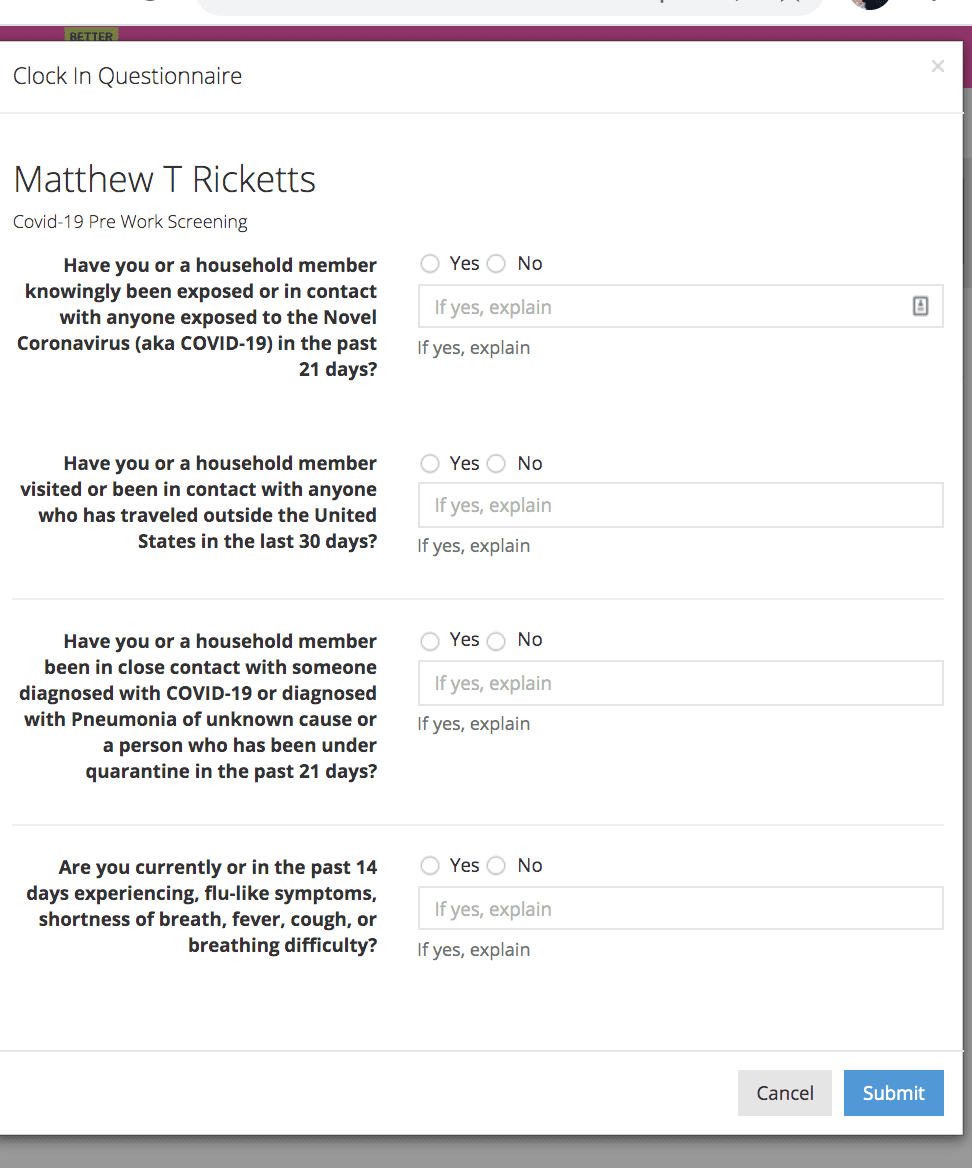 Better Life Maids has the best cross-contamination protocols in the home cleaning industry and are actively researching ways to improve them. We use a close system mop system. Clean mops are soaked in a clean solution. Mops are removed from the clean system and used until they are soiled. They are then placed in a plastic bag and removed from service for the day. Only clean mops remain the solution, and we only use a mop in a bathroom and then remove it from service. We do the same with cleaning cloths. Only clean microfiber cloths are brought into your home. And we are implementing systems to make sure that one set of cleaning tools per home is used as well. Vacuums are wiped down between each home.
We will continue to provide you with an excellent cleaning service while improving our processes and helping you have peace of mind that all of the surfaces in your home are cleaned and sanitized.
What We Know About Coronavirus
The coronavirus is a novel respiratory disease that has been spreading globally since late 2019. It presents a threat due to its newness, its contagiousness, and the lack of a vaccine or a clear treatment plan. The World Health Organization, the Centers for Disease Control and Prevention (CDC), the Public Health Agency of Canada, and local health officials are the trusted sources for the most accurate information, as well as updates on the status of vaccines and treatments (which are in development).
The coronavirus's health risk to date appears to be comparable to that of influenza, which many of us have experienced. The CDC provides the following data about the preliminary burden estimates of influenza for the 2019–2020 season in the United States (October 1, 2019–February 22, 2020), which are contrasted with current burden estimates of coronavirus globally:
Based on the data so far, it's worth noting that children do not appear to be more susceptible to coronavirus than adults. In fact, no deaths have been reported among the young. Additionally, based on existing cases, it's estimated that about 80 percent of people who are affected experience mild symptoms.
Unfortunately, coronavirus may live on certain surfaces at room temperature for several days. This, along with its rate of contagiousness, makes it unlikely that the virus can be contained. And because its symptoms are similar to those of influenza, it initially may be hard to know if they are indicative of coronavirus or another illness
What We All Can Do
Stay informed. It's important to process the considerable information we're all receiving in a balanced and thoughtful way. With that in mind, worrying or panicking in response to the overwhelming amount of information can create stress in the body, which is known to compromise immunity. The CDC provides a comprehensive overview of "What You Should Know."
Practice good hygiene. These habits include:
Wash your hands frequently, and for at least 20 seconds, with soap and water to protect yourself and others from germs.
Cover your mouth and nose when coughing or sneezing.
Keep your hands away from your face, because germs routinely spread when a person touches something contaminated with germs, and then touches his or her eyes, nose, or mouth.
If you begin to develop cold- and flu-like symptoms or become ill, take care of yourself and minimize the spread to others by staying home. If you think you may have symptoms of coronavirus, call your healthcare provider immediately.
More resources can be found at:

https://www.who.int/emergencies/diseases/novel-coronavirus-2019/advice-for-public

https://gisanddata.maps.arcgis.com/apps/opsdashboard/index.html#/bda7594740fd40299423467b48e9ecf6
https://www.cdc.gov/coronavirus/2019-ncov/index.html