How to Clean Your Bedroom Like an Expert
Your bedroom is the place where you unwind at the end of a busy day. That's why it's important to make sure it's hygienic and has a relaxing atmosphere. If you live in Webster Groves MO, you can hire maid services to make your bedroom spotless. If you still prefer to do it yourself, read our tips on how to clean your bedroom quickly and efficiently.
What is the fastest way to clean your bedroom?
You can clean a double bedroom in around 15 minutes. The trick is to do it regularly. Don't neglect it for too long. Follow our tips to create an efficient routine: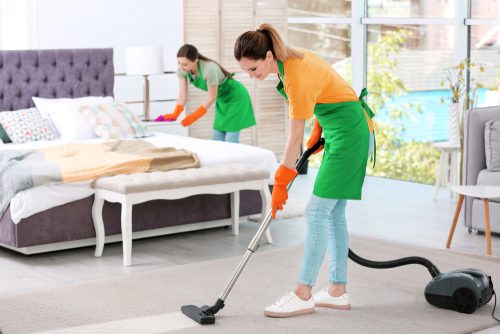 Declutter
Tidy up before you start cleaning. Gather any items that don't belong there and put them in their proper place. Put any dirty clothes in the hamper, and clean clothes back in the closet. Empty the trash can.
Do the dusting
Start dusting from top to bottom. Remove cobwebs from corners with the nozzle of your vacuum, or a long handled duster. Next, wipe hard surfaces like metal light shades, Venetian blinds, picture frames and baseboards with a damp microfiber cloth.
Finally, use vinegar-based spray and dry microfiber cloth to wipe over and buff mirrors and windows. Don't overlook the light switches and outlets, as they are frequently used touch points and can harbor significant germs and bacteria.
Strip the bed
After you've finished dusting, strip the bed and vacuum the mattress gently to avoid damaging any fillings. Also vacuum or wipe down the headboard and the gap between the headboard and mattress. If necessary, you can flip or turn your mattress and let it air with no sheets on for at least half an hour.
This is a good time to wash bed sheets. If required, you can also wash a weighted blanket, pillows, and comforter, as they can be full of mites. If you're washing the comforter, check the label first, but 60 degrees will kill most germs and bacteria.
Vacuum the floor
Turn up to full power and try to get as far under the bed and any leggy furniture as you can reach. Don't hesitate to hit some of the high traffic spots twice. For the hard flooring, you will need to mop after vacuuming.
Remake the bed
When you finish your cleaning session, make the bed with freshly washed bedding. A backup set will come in nicely for these occasions in case your regular sheets aren't dry yet. For the final touch, you can add a fresh vase of fragrant flowers, or a spritz of pillow spray.
Make it fun
Cleaning a room is always faster if you're having fun. Play your favorite upbeat music and sing along. You'll move more easily and even get some free exercise without going to the gym! In the end, reward yourself. Have a cup of coffee, or watch your favorite show, anything that motivates you to get the job done.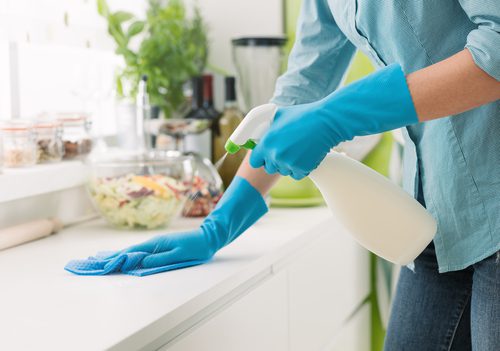 Where in Webster Groves, MO, can I book reliable maid services?
Maintaining your bedroom can be challenging and time-consuming, but you can always look for professional help. The screened and trained cleaning experts from Better Life Maids will give you a detail-oriented service that focuses on your exact needs and requirements.
If you want your living room spotless, your kitchen sparkling clean, or your kid's room tidier than ever, leave it to our team in Webster Groves. Take some time off and check out Chouteau Park with your loved ones. Contact us today and get a free estimate!