How to Clean Your Living Room in 5 Easy Steps
We all like to enjoy our free time in a neat and tidy living room, but keeping it in a spotless condition can be time-consuming. If you want to make this process easier for yourself, you can hire maid services in Webster Groves, MO.
However, if you prefer to take care of this task yourself, in this post we are going to show you how to do it in just 5 simple steps. Read on to learn more.
What is the best way to clean a living room?
Creating a fast and effective cleaning routine is essential if you want your living room to shine. Read on and clean your living room like a pro: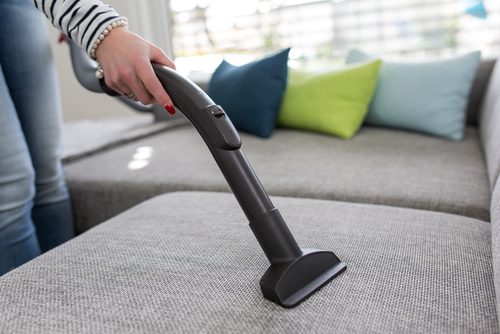 Step 1: Declutter
Your housekeeping will be much easier if you tidy up first. Remove all items which do not belong on the couches, bookshelves, coffee tables, and other surfaces.
Step 2: Start with the dusting
First use the soft cloth or feather duster. Move from top to bottom to make sure you never have to clean something twice. Cover all areas, even those hard-to-reach, such as cornices, picture rails, high shelves, curtain rods, and areas behind and around the radiators.
Next, switch to a damp microfiber cloth. Wipe baseboards, picture frames, door frames and other hard surfaces. You will make the most of your microfiber cloth if you fold it into half, then in half again and use only one section of the cloth at a time.
Step 3: Take care of the couches and armchairs
Clean debris and dirt from furniture. Use a hand vacuum or the brush attachment. Don't miss any crevices which collect pet hair, food crumbs and dirt. Remove the cushions and vacuum both sides.
Use a solution of warm water and liquid dish soap to wipe the wood or metal areas, such as the sofa feet. You should know how to remove stains from the couch or sofa. You can use baking soda for a fabric couch, rubbing alcohol for microfiber, and a mixture of water and vinegar for a leather couch.
Step 4: Tackle the glass
Glass windows and doors are prone to smudges and streaks. You can clean glass surfaces with a glass cleaner or a natural DIY alternative. Mix equal parts of white vinegar and hot water and add a little liquid soap. For a more thorough cleaning, spray and wipe down from top to bottom.
Step 5: Leave the floor for the end
The floor should always be the last on your chore list. Remove the rugs and carpets, take them outside and beat out the dust. Then move the furniture, and get down to the vacuuming.
Cover the entire area of your living room by starting along one wall, slowly moving to the opposite wall, and overlapping the next pass slightly. The entire carpet surface should be vacuumed twice.
If you have large sofas or beds that cannot be easily moved, try to reach as far as possible under each piece with the vacuum or switch to the hose with the powerhead attachment.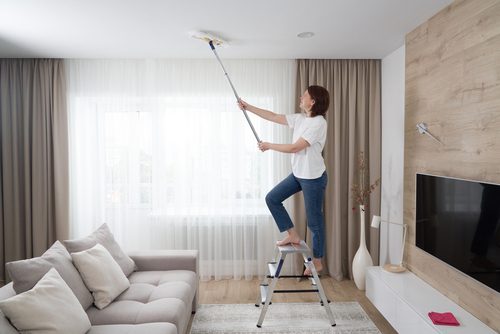 Where can I hire reliable maid services in Webster Groves MO?
It's important to have a nice place to relax after a busy day. Our physical and mental health can suffer in an unclean environment. If you're short of time or feel too tired for housekeeping, don't hesitate to hire professionals.
The trained and experienced staff from Better Life Maids will spruce up your bedroom, make your kitchen shine, and leave your children's room spotless. Let our team work their magic while you take some time off and enjoy the best Webster Groves has to offer. Contact us and get your free estimate today.