7-Step Fridge Cleaning Guide
Ah, the fridge. The (not-so) silent guardian of liquid and solid sustenance, munchies-satisfying salties, and sweet-toot pleasing savory delights. Oh, and broccoli, too. Indeed, the fridge is the coolest appliance in the house, bar none!
Still, your trusty refrigerator must be thoroughly cleaned every once in a while, to retain its cool. Here's some advice that will help you deep clean your fridge with effectiveness rivaling that of University City residential cleaning services.
How do you deep clean your refrigerator?
In a word: methodically. Remember, this is the appliance that keeps your food fresh and, by inference, keeps you healthy. Therefore, it deserves respectful treatment that you can provide by following these steps:
#1 Preparation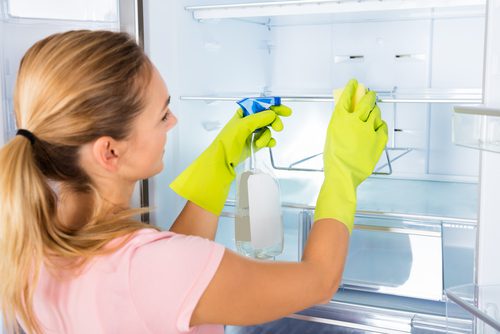 Whether you're disinfecting a bathroom, tidying up your garage, or scrubbing an entire home, it pays to be organized. Therefore, before you start on your fridge, prepare all your cleaning tools and supplies. Be sure to put them all within reach, but out of the way. By doing this you'll finish work in no time and can take the rest of the day off to chill at the banks of River des Peres.
The last thing to do before you start cleaning is to make sure your fridge is unplugged. It is still an electrical appliance and you'll be using a lot of water to scrub it. And you already know that water and electricity do not mix.
#2 Remove everything that can be removed
Pretty self-explanatory. You can hardly expect yourself to be efficient and thorough if there are a thousand things getting in your way. Therefore, everything must go: food, drinks, shelves, and drawers. With that, you're ready to get down 'n dirty.
#3 Cleaning the interior
Now the real work begins. First, you'll need a solution of baking soda and warm water. 2 tablespoons in a quart is enough but you can make more if you think you'll need it. This will be the detergent that you'll use for the entire fridge.
Side note: You can use a real detergent if you wish. However, make sure it is a mildly scented one, as the smell can linger for a while and your food can pick it up. And detergent-flavored food is… well, not very good.
Moving on, scrub the inside of the fridge with a cloth soaked in the previously made solution. Be sure to get into every nook and cranny, since they retain the most dirt and odors. Baking soda is a natural deodorizer, and doing this will make sure it absorbs all the smells.
That said, for the best effect, let it sit soaked for 5-15 minutes. Depending on how strong the odor is, you may want to let the solution sit a bit longer. After that, use a clean moist cloth to rinse the inside and, finally, dry all the surfaces with a towel.
PRO TIP: If the odor persists even after a second soda treatment, take a smaller ceramic bowl, fill it with baking soda, and leave it in the empty fridge overnight.
#4 Clean the shelves and drawers
Use the same baking soda solution to wipe shelves and drawers. If there's any hard-core dirt or odors that won't come off in the first go, soak them in the same solution for 15 minutes.
PRO TIP: You can use the same method when deep cleaning oven grates.
#5 Scrub door seals and gaskets
Seals and gaskets are dirt magnets. Therefore, do not ignore them. Give them a thorough scrub and you can rest easy for the foreseeable future. A butter knife can come in handy here, as it is pretty hard to get into crevices with a cloth alone. Just be patient and careful, so as not to damage them.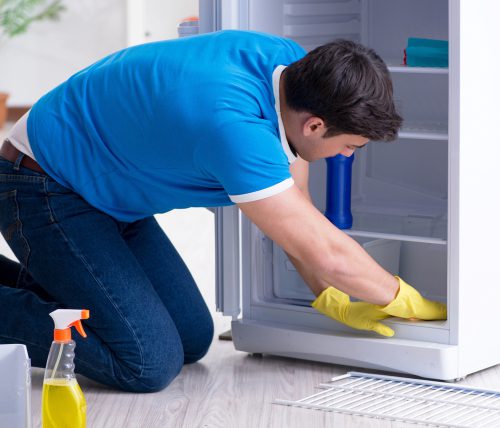 #6 Vacuum the grate and coils
You'll have to get behind the fridge for this one. Move it carefully away from the wall and use a coil brush to gently remove all the dust and debris caught on the coils and grate. You can also use a vacuum extension to speed up the process.
#7 Give items in the fridge a quick swipe, too
There's no point in deep cleaning your fridge if you're going to slap that sticky tupperware right back in. So, be sure to give them a scrub too. Yes, you guessed it, the same baking soda solution works for this, too.
And with that, you're all done! What's left now is to reassemble your fridge, plug it back in, and restock it. Et Voila, one super-clean fridge, ready to be put to good use!
Which University City residential cleaning services should I hire to deep clean my fridge?
There's no one better in University City for all your cleaning and deep-cleaning needs than Better Life Maids. Whether it is your fridge or oven that needs scrubbing or your pets made a mess and you want it cleaned out ASAP, we have the skills, the tools, and the experience to do so. Give us a call today and you'll have a reliable team to make your home shinier.