6 Expert Tips for Move out Cleaning
Anyone who has ever moved knows how messy and stressful it can be. However, leaving your old place in mint condition isn't just a matter of courtesy. Whether you're doing it on your own or hiring move-out cleaning services in St. Louis for a pain-free process, make sure the last responsibility before turning the key is done properly.
Leaving your old house spotless when moving out is as important as it is to give a good clean to your future home. But how do you actually perform a move out clean? Keep reading to get the answer to this question in detail.
How do you do a move-out cleaning?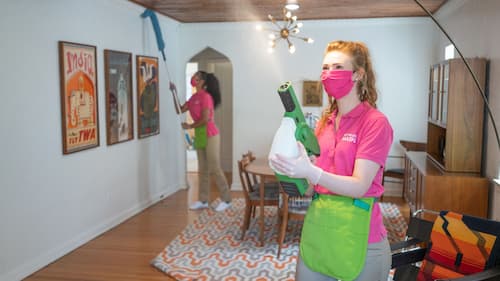 Logistically, the most efficient way to clean the place when moving out is when all your belongings have already been packed and the furniture disassembled. The key is to figure out the best strategy. Our advice is to break the task into smaller, more manageable pieces:
Dust the place from top to bottom: Reaching high flat surfaces and ceiling corners can be tricky, but a duster with an angled brush should do the trick.
Clean storage areas: To clean everyday dirt and grease from the storage areas, apply the mixture of warm water and white vinegar. Keep in mind to use the mixture for high-touch areas, too, such as metal knobs and handles.
Disinfect the bathroom: Sanitize the toilet interior and exterior, apply an all-purpose cleaner to the shower area, and polish all the glass surfaces. If there's any limescale and mold, make sure to get rid of it.
Give the sinks a good scrub: If a stainless sink is what you strive for, before you start scrubbing, sprinkle baking soda all over it. To clean it more easily, you can use a sponge and dish soap. Finally, give it a good rinse before you move on to faucets.
Sanitize kitchen appliances properly:
Unplug the fridge, shift it, and clean meticulously inside out
Clean out the drawers and wipe them down
Degrease the oven and clean a stovetop
Wash a dishwasher filters
Finish with the floors: Get into every nook and cranny and vacuum the place completely. You can use the steam cleaner, to ensure the house is germ-free.
What else should I have in mind?
Now that you know more about what a move out cleaning encompasses, it's time to learn if there is anything else to think of before new tenants move in.
Only a small percentage of people are familiar with apartment-friendly ways to decorate the walls, which is why most of us have them covered in nails, hooks, screws, and holes. Before leaving the place, make sure you did not leave them damaged.
A few points on how to do it effectively:
Check the walls thoroughly
Clean them with a mild solution of warm water and wash up liquid
Let them dry
Cover up anythe blemishes and stains with fresh paint
Don't forget to check the inside and the outside windows, too. Dirty windows can leave a bad impression, so don't let your efforts go to waste.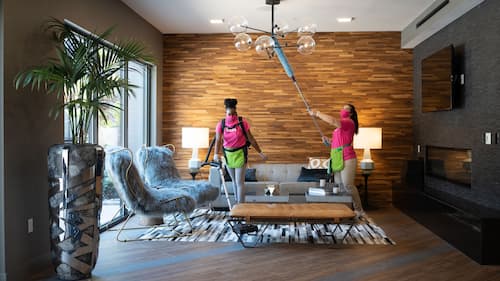 Where can I book an expert move-out cleaning service in St. Louis?
Are you planning to move soon and looking for cleaning professionals to help you manage the move more easily? With Better Life Maids by your side, you'll abide by the terms of the lease and leave the property in an ideal condition.
We have a full-service package or individual solutions, customized to your needs. Whether it's a recurring home cleaning that you seek or a meticulous deep-cleaning service, count on our maids to deliver. We use proven cleaning methods and environmentally friendly products, which is why we vouch for the safety of your home and your loved ones.
Use your time wisely, don't say no to a nice walk through Chinatown, St. Louis, and leave everything else to our team. Contact us today and book the service you need!