BATHROOM CLEANING PROCEDURES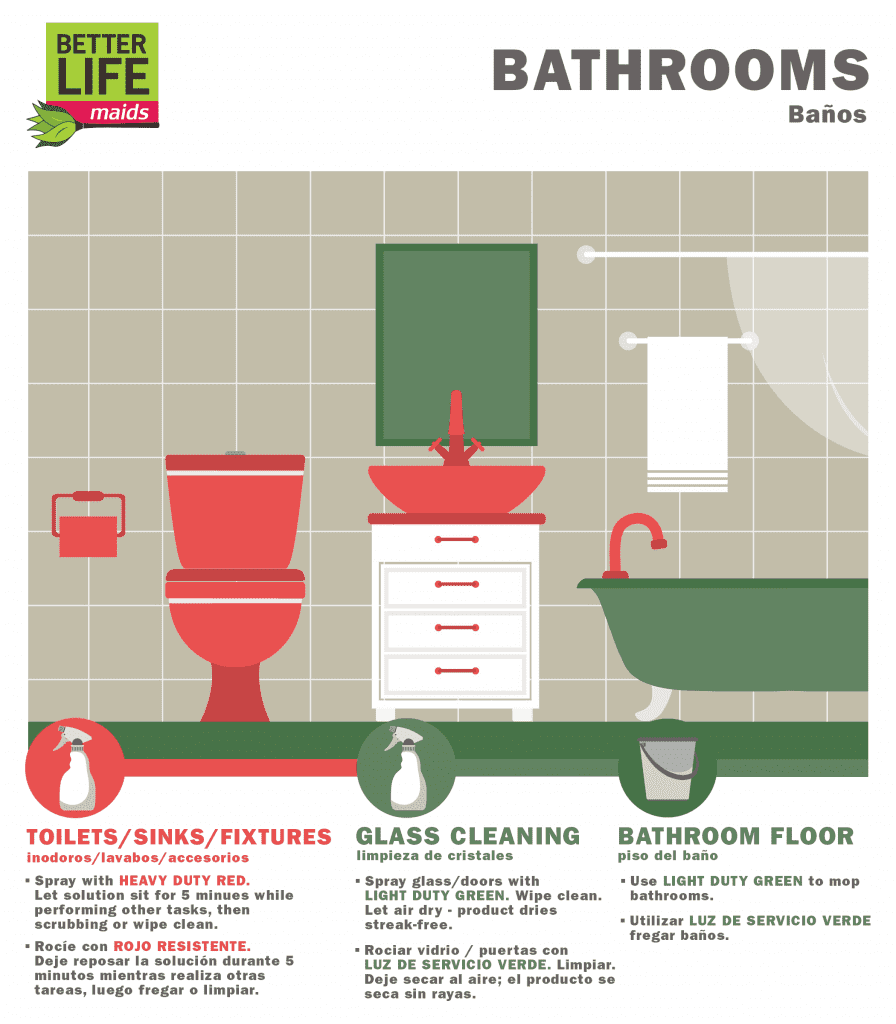 Better Life Maids has a systematic approach to cleaning every room we service. Cleaning the bathroom efficiently and thoroughly is an important step in cleaning for health and safety.

The following personal protective equipment (PPE) should be available
Disposable Gloves – required
Mask – required
Eye protection – recommended
Shoe covers – recommended if safe for the surface you are working on
Gather the following supplies:
Red Heavy Duty Sanitizer and Virucide
Green Light Duty Sanitizer
Blue Disinfectant
Better Life – Surface Safe Abrasive Cleaner
Toilet Brush
Tile Brush
Grout Brush
Detailing Brush
High Duster
Plastic Scraper
Eraser Sponge
Cleaning Cloths
Plastic bags (for used cloths, and to reline the waste cans)
The first step to cleaning a bathroom is to hight dust all surfaces. After that, you will collect the trash. Pull all small rugs and towels as necessary to clean all surfaces completely.

Always start by applying your heavy-duty cleaner to all the critical and high touch surfaces marked in red. You will spray directly on the sinks, toilets, and fixtures, and use a very wet cloth to apply to door handles, pulls, and light switches. You can spray and wipe green surfaces marked in green. Your red heavy-duty cleaner is an EPA certified sanitizer and virucide, you need to make sure to leave it on surfaces for up to 5 minutes.

You should always start cleaning at the sink and move to the right in a circle around the room. The pattern is top to bottom, left to right. Always finishing where you started in any room. Start above the sink by cleaning the mirror and working your way down. Continue around the room in the pattern described above.

Use the appropriate tools on all surfaces. You are supplied a clean and disinfected set of tools for each home. Use the toilet brush and Better Life Surface Safe Scrubber to clean the inside of the toilet. Use the gong brush as necessary on tile surfaces. Your grout brush and detail brush may be necessary as well.

Tips on using microfiber. You should fold the cloth to clean surfaces completely. A bunched cloth does not have enough surface contact to clean effectively. Microfiber mops in the bathroom should only be used on the bathroom surface and then removed from service for the day.

When complete. Apply Blue disinfectant to all critical surfaces noted above. Let the disinfectant dwell for 5 minutes before completely removing and wipe shining the surface. This is a temporary extra step we have adopted as part of our ongoing process to combat the threat of Covid-19. While there are indications from reputable health sources that hydrogen peroxide in concentrations similar to our Red heavy-duty cleaner is effective against organisms like Covid-19 until we have confirmation of that we will continue to add this disinfection step.